Paul Rabil was busy in New England this weekend teaching a couple
youth lacrosse clinics
, but he was sure to leave some time for fun. After watching the Patriots beat the Colts at Gillette Stadium, Rabil took to the field with Belichick...to play some lacrosse. Belichick keeps his stick in his office, so after the post-game press conference he was ready to celebrate the big win with a relaxing game of catch. Rabil proved he can throw the ball as long as his shot is fast, launching the ball the entire length of the field to Belichick.
Coach showing off his lax skills - he was, after all, the captain of his team at Weslyan - blew up Twitter for a while Sunday night, as well as the Boston sports blogosphere. The
ESPN Boston report
has been shared on Facebook 246 times (and counting) and the
Globe
got a nice shot of him on the field. Then Coach talked about Rabil, quoted in the
Globe
,
Herald
and
WEEI
, among others. Belichick talks about Rabil's "competitiveness, and his toughness, and his skills," saying "his work ethic is very impressive. I thought about making him a strong safety, but it's hard to take the best lacrosse player in the world out of that sport." 
NESN.com
caught up with Rabil on Monday to talk about Sunday's lax ball with Coach Belichick
Battle of the Flow
Rabil at the Patriots game brings us to another question. Forget Justin Beiber: Who wins the battle of the flow between Tom Brady and Rabil?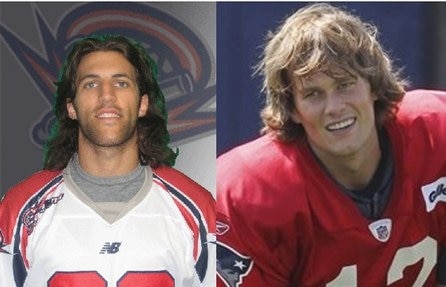 Brady may credit (blame?) his long locks on his supermodel wife, but no one can deny the domination of these two athletes in their respective sports. Whatever the reason behind the hair, Patriots and Cannons fans aren't complaining.
From long hair to chick flicks and Chipotle, get the scoop on a few of Rabil's favorites with
this Q & A
on NESN. We also have a couple videos and photos from the clinic
here
. Look for more Rabil and Cannons coverage coming up with videos on
NESN.com
and
Style Boston's Off the Field
, which will air on NECN and Comcast Sportsnet in the next few weeks.
Editors note: The Boston Cannons would like to thank Cannons fan Connor Cirillo of North Kingstown, RI for throwing out the term "Brolichick" via Facebook last night. Superfan, and super lax bro.