It was a wild weekend to say the least for the Cannons who are plying their trade in the NLL. Four Cannons got a win with the Blazers, Paul Rabil had a pair of huge games (but was held winless) and three Cannons tasted defeat with the Philadelphia Wings.
The Boston Blazers got four goals from defensemen, including Jack Reid's first of the year, en route to an 11-6 win over the visiting Colorado Mammoth.  Reid scored in the second quarter on an assist from fellow Cannon Mitch Belisle. Reid also had a fight in the first quarter on his way to a game high 14 penalty minutes. Belisle had three loose balls to go along with his assist. Greg Downing scooped up four loose balls in the win and Kevin Buchanan, who had been playing well offensively, was held to one assist. Blazers goalie Anthony Cosmo had a strong game, making 38 saves, to lead his team to victory. The Blazers currently sit at 5-3 and head to Minnesota Saturday to take on the Swarm.
Click here for the game recap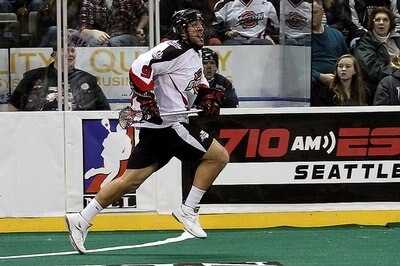 (Cannons star Paul Rabil had an impressive weekend for the Washington Stealth)
Paul Rabil had a bitter sweet weekend as Washington Stealth were swept in a home and home series with the Edmonton Rush. On  Thursday, Rabil was named to the NLL West all-star team as a reserve. He was the only Cannon to make an NLL all-star team this year. On Friday night in Edmonton, Rabil picked up an amazing 18 loose balls to go along with a goal, an assist and a forced turnover. However, it was not enough as the Stealth fell 14-12. Back at home the next night, Rabil had perhaps his best game of this season for the Stealth. He had three goals and four assists. On the back end, Rabil scooped up 12 loose balls and forced three turnovers. However, the Stealth again lost to the Rush, this time 15-14. Rabil has 93 loose balls on the season, tops in the league and nine ahead of second place Geoff Snider. The defending NLL champion Stealth are currently 3-5 and will take on the last place Colorado Mammoth at home on Friday night.
Click here for the recap of Friday's game
Click here for the recap of Saturday's game
Kyle Sweeney scooped up seven loose balls and forced three turnovers as East Division cellar dwellars Philadelphia lost 16-7 to the Buffalo Bandits. Ryan Boyle failed to score for the Wings, despite recording six shots on goal, but he was able to pick up five loose balls. Patrick Heim grabbed three loose balls and won two of six face-offs in his return to action after missing two straight games. Notably, John Tavares of Buffalo became the first NLL player to score 700 regular season goals in this game. The Wings are 3-4 on the season and will look for revenge as they head to Buffalo on Saturday to take on the Bandits.
Click here for the game recap
| | | | | | | | |
| --- | --- | --- | --- | --- | --- | --- | --- |
| Blazers Stats | Games | Goals | Assists | Points | Loose Balls | Forced Turnovers | Face-offs won/taken |
| Buchanan | 8 | 12 | 17 | 29 | 23 | 2 | 0/0 |
| Downing | 8 | 0 | 1 | 1 | 35 | 3 | 0/0 |
| Belisle | 8 | 1 | 1 | 2 | 34 | 8 | 0/0 |
| Reid | 8 | 1 | 0 | 1 | 17 | 12 | 7/20 |
| | | | | | | | |
| --- | --- | --- | --- | --- | --- | --- | --- |
| Stealth Stats | Games | Goals | Assists | Points | Loose Balls | Forced Turnovers | Face-offs won/taken |
| Rabil | 8 | 9 | 15 | 24 | 93 | 9 | 0/0 |
| | | | | | | | |
| --- | --- | --- | --- | --- | --- | --- | --- |
| Wings Stats | Games | Goals | Assists | Points | Loose Balls | Forced Turnovers | Face-offs won/taken |
| Boyle | 7 | 2 | 10 | 12 | 24 | 1 | 0/0 |
| Sweeney | 7 | 2 | 0 | 2 | 34 | 7 | 0/0 |
| Heim | 5 | 0 | 6 | 6 | 14 | 2 | 28/71 |